Directions
ABOUT FORMULA STUDENT
Formula Student (FS) is Europe's most established educational motorsport competition. Backed by industry and high-profile engineers such Patron, Ross Brawn OBE, the competition aims to develop enterprising and innovative young engineers and encourage more young people to take up a career in engineering.
The format of the event is such that it provides an ideal opportunity for the students to test, demonstrate and improve their capabilities to deliver a complex and integrated product in the demanding environment of a motorsport competition.
The project usually forms part of a degree-level project and is viewed by the motorsport industry as the standard for engineering graduates to meet, transitioning them from university to the workplace. It is a kite-mark for real-world engineering experience.
Each year hundreds of competitors attend our Learn To Win events, which are aimed at competitors to help teams get their cars ready for the next competition.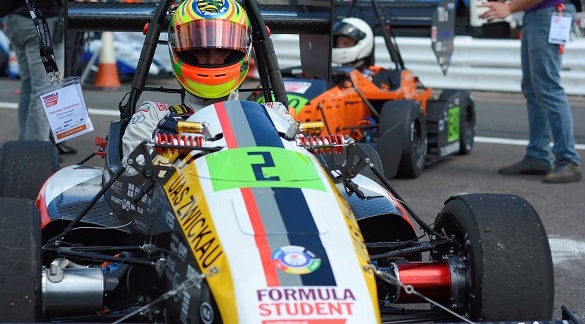 THE FORMULA STUDENT CHALLENGE
As a student, taking part in Formula Student gives you the chance to demonstrate your technical, engineering design, and manufacturing skills.
You will also learn important lessons on team working, time management, project management, budgeting and presentation: all things that any prospective employer will be looking for.
Formula Student graduates also find that the professionalism they gain as practising engineers means they are well equipped for their future engineering careers.
Your team is tasked to produce a prototype for a single-seat race car for autocross or sprint racing, and present it to a hypothetical manufacturing firm. The car must be low in cost, easy to maintain, and reliable, with high performance in terms of its acceleration, braking, and handling qualities. During the competition your team must demonstrate the logic behind your proposal and must be able to demonstrate that it can support a viable business model for both parties.
Each team goes through a rigorous testing process.
Static Events:
Design, Cost and Sustainability, and Business Presentation Judging
Technical and Safety Scrutineering
Tilt Test
Brake and Noise Test
Dynamic Events:
Skid Pad (Figure of 8)
Sprint
Acceleration
Endurance
Fuel Economy
RULES
The final versions of Class 1 and Class 2 rules are now available, so make sure you download the updates and save copies for your records.  We recommend deleting old versions, just to be safe!
2016 rules
The rules for Formula Student 2016 can be found below for reference:
(Visited 204 times, 1 visits today)